Congratulations to our own Dr Manasi Kamat for winning the Females in Mass Spectrometry Empowerment Award!!!
NOTICE!  In-person self-operation  is now open.  Reserve your time on the calendar!
Welcome to the University of Florida Department of Chemistry Mass Spectrometry Research and Education Center. Our goal is to provide a valuable resource to complex research needs through access to a wide variety of mass spectrometry instruments, bioinformatic tools and highly trained staff. We offer both routine services and advanced research based projects. Please contact Dr. Basso (fkn Kari. B Green) for information on samples or projects. We look forward to serving your mass spectrometry needs.  A list of just some of our services is described below.  See MSREC Services for more detailed information.
Analysis of Intact Large Biomolecules
Proteomics

Modification Analysis (PTM, mutations etc)
Shotgun Analysis
Protein Complex (IP)
Label Free Quantitations
SILAC
Targeted Proteomics
Discovery Proteomics
Metabolomics

Targeted Metabolomics
Discovery Metabolomics
LC-MS and LC-MS/MS
Polymer Analysis
---
 

NEWS!!!
MSREC is pleased to announce the installation of a new Bruker Autoflex LRF.  This instrument is capable of MALDI imaging (molecular tissue imaging).  This instrument is also available for training for self operation!
The new Q Exactive HF Orbitrap is installed and running real samples!!  Come check out the lab!  In one year we have $1.5M of new instruments!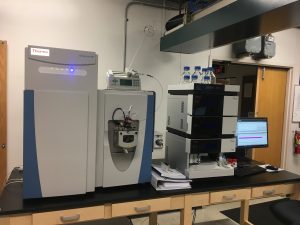 The submitted proposal NIH S10 OD021758-01A1 Titled "Acquisition of a Q Exactive HF Hyrbid Quadrupole-Orbitrap" has been awarded to the MSREC!!!  Stay tuned for installation dates! 
The MSREC is excited to announce the installation of a Bruker Impact Qq-TOF Ultra-high resolution LC-MS/MS system


Stop in a see our latest installation.  Finally we have ultra-high resolution LC-MS/MS capabilities in the Mass Spectrometry Facility!   We are already running samples and projects on it. 

We have installed autosamplers on the LCQ DECA and the DSQ GC-MS

Now you can load up to 100 samples and run overnight and improve reproducibility in your data! 
Did you know we have two instruments available for self operation?!

The Autoflex MALDI and Agilent TOF are all available for self operation after training.
Now Offering Protein Sequencing & Other Proteomic Services

We have expanded our services to include proteomic experiments utilizing our new Thermo Scientific Q Exactive HF Orbitrap with a Dionex nanRSLC. The service includes sample preparation, gel electrophoresis, sample digestion, LC-MS/MS and the bioinformatics (database searching, PTM analysis, etc).  Both qualitative and quantitative analyses are available 

SDS-PAGE Services

We are now offering 1D SDS-PAGE for protein separation before protein sequencing as a new service.